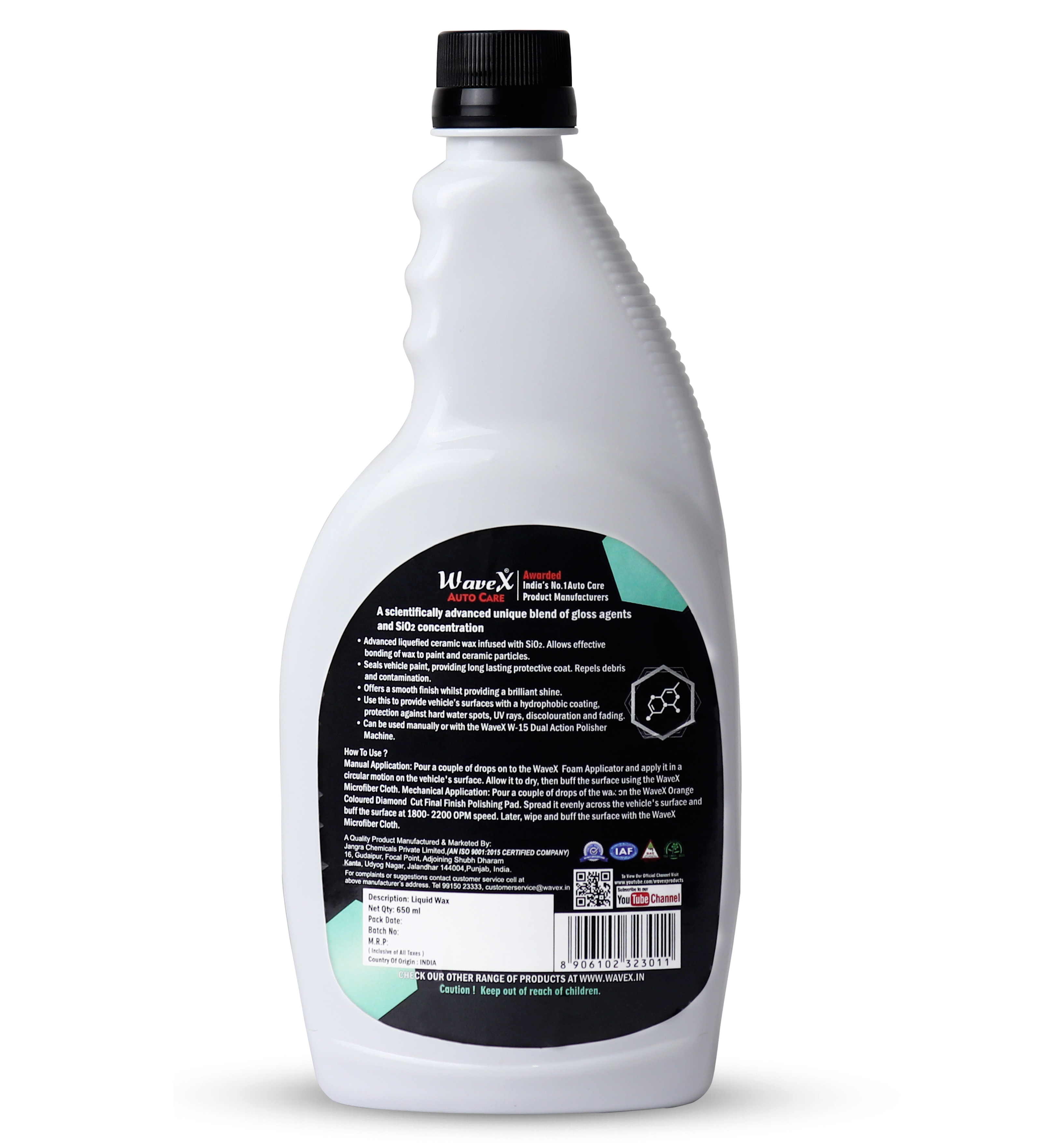 Product Description
WaveX Ceramic Liquid Wax is a scientifically advanced unique blend of gloss agents and SIO2 concentration that allows an effective paint and ceramic coat bonding. If you want an explicit yet sophisticated vehicle wax that delivers unbeatable paint/ ceramic coating protection, then this is the go to product.
It is easier than applying a traditional vehicle wax as it has been developed in a manner that allows you to easily apply it either by manual application or using the WaveX W-15 Dual Action Polisher Machine.
After your vehicle has undergone a ceramic coating process, you can apply paint sealants, vehicle waxes, quick detailers etc. however, they can slowly subtract the properties of your ceramic coating whereas, the WaveX Ceramic Liquid Wax doesnt do so rather, it protects the vehicles surfaces and in a way enhances the life and performance of the ceramic coating that has been applied to your vehicle.
Its advanced formula produces a slick, protective, water beading layer that seals your paint from the harsh elements and contaminants in the environment.
Mechanical Application: Pour a couple of drops of the wax on the Wave X Orange Coloured Diamond Cut Final Finish Polishing Pad. Spread it evenly across the vehicles surface and buff the surface at 1800-2200 OPM speed. Later, wipe and buff the surface with the Wave X Microfiber Cloth.
Manual Application: Pour a couple of drops on to the Wave X Foam Applicator and apply it evenly in a circular motion on the vehicles surface. Allow it to dry then buff the surface using the WaveX Microfiber Cloth.
Since it dries clear it wont leave any white residue on non-painted rubber, plastic and vinyl trims. It can even be used on chrome or applied as a top coat over traditional waxes and sealants. As a general note of caution, it is advised that this product should not be applied to glass components such as windshields, side view mirrors etc.
Enter Buying Requirement Details
Other Products in 'Wavex Auto Care' category